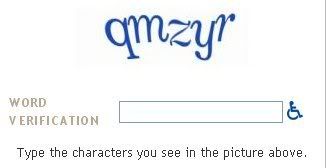 Which do you prefer? Having to fill out a word verification form so that your comment can be posted right away? Or waiting for the site owner to moderate the comment before it gets posted?
Or should we just track down and kill comment spammers and be done with the whole thing?
Bonus question: Have you ever clicked the wheelchair icon on the Word Verification form and listened to the audio version?
------------------
Followup on Thursday, March 20, 2008:
OK, so death (or misfortune) to comment spammers! It seems like most of us are in agreement on that. :)
No-one seems to hate moderation (as long as the comments get moderated in a timely fashion), but some people passionately hate word verification.
I, personally, was shocked at how obnoxious sounding the audio verification is. I feel for anyone who has to use that.
For those of you who don't like the way Blogger handles comments and wonder why it's not consistent across all blogspot websites, that's because we have a number of administrative options when setting up comments. Here is a screen capture showing a few of the options that directly affect your commenting experience.
What I personally don't like about Blogger comments is that you're taken away from the original post page to do your commenting. I like to be able to see the post in its original context when crafting a comment. Plus, that time spent on the comment page doesn't seem to get counted as time spent viewing my blog.
As an experiment, I've turned off word verification and enabled moderation. I'll probably keep it that way today to see if I like it, but then switch it back because I'll be on vacation next week and probably won't be able to moderate in a timely fashion.