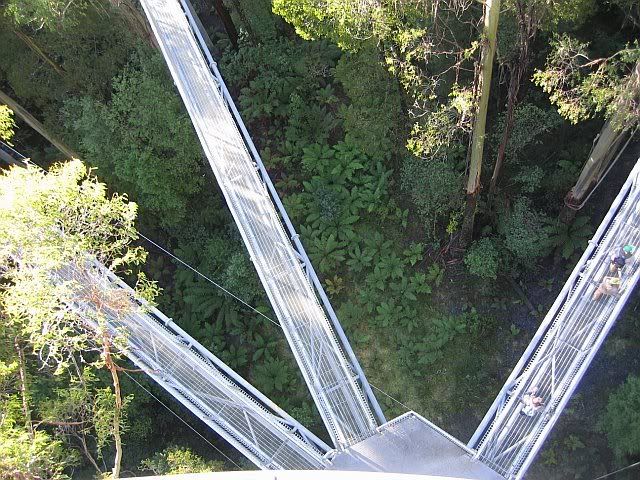 I'd managed to steal enough hours of me-time with a book this week, but Dave needed a respite today, so he stayed home. He slept in, worked out and went shopping with Stuart, who'd just gotten out of the hospital following surgery on his arm/wrist.
I went with Ross, Gill, Ben, Auntie Edie and the rest of the American family for a marathon drive to the Otways and back along the Great Ocean Road. We had an ambitious itinerary and a lot of kilometers to cover before we had to be back for a final dinner with the family.
Today was all about the views: the Melbourne cityscape was we drove out of town, the green pastures of farm county, the lush rainforest in the Otways, and the ocean vistas at sunset on the way home. I was intrigued, because this is an area around Melbourne that I'd never gotten to explore before.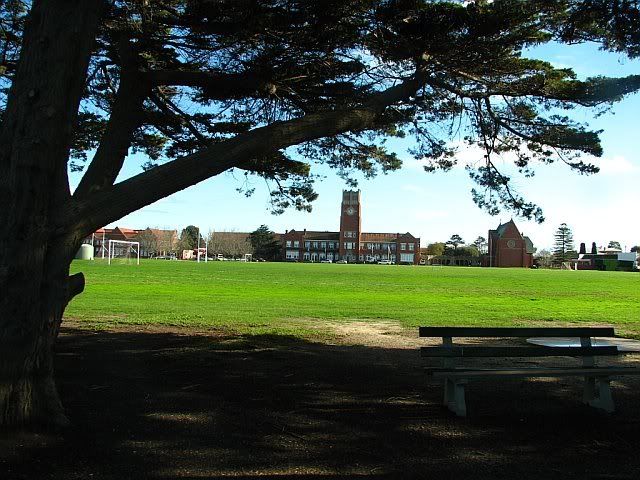 In Geelong, we stopped at
Geelong Grammar School
, where Ross' dad was once headmaster and Ross grew up. As an American, when I hear "grammar school", I think of an elementary school for grades 1-5 or 1-6, but Geelong Grammar is more like Hogwarts from Harry Potter. Not with castles and magic, of course, but with dormitories and "houses" and intra-school competitions. I guess a more accurate comparison would be an old English boarding school, but I know far more about Hogwarts than any old English boarding schools.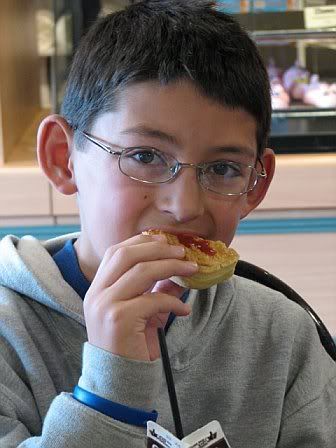 From Geelong, we took the
Princes Highway
past small towns and farming country (including a drive-by of a farm that Ross used to own). We stopped for lunch in the town of
Colac
, where some of us sampled the meat pies (love a good meat pie -- it's a good thing for me they're not common here in the U.S.).
From there, we went on to the
Otway Fly Treetop Walk
. This is an interpretative trail set up through the rainforest that brings you up onto catwalks about 25 meters above the rainforest floor. From there, we were able to climb a tower that brought us more than 45 meters above the rainforest floor. It's difficult in words and pictures to capture the sense of sway and movement in the catwalks, but yet at no time did I find it scary.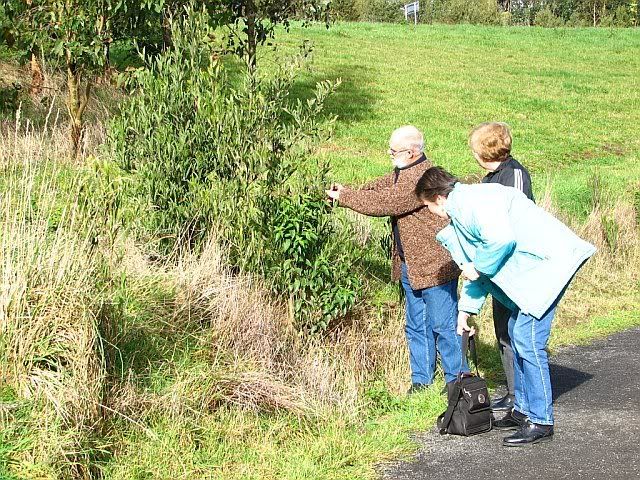 Ross really seemed to be in his element on this walk -- in full school-teacher mode -- while Heather and I had a great time trying to get creative with photos. The boys, Jeff and Gill were all really patient with us (Mom and Auntie Edie had stayed back in the lodge to enjoy the view there).
From the Otway Fly, we took the
Great Ocean Road
home. My best frame of comparison for the Great Ocean Road is Highway 1 along the coast in California, although Mom insists that the Great Ocean Road is windier. Unfortunately, we were in daylight for only about the first third of the drive -- I have a ton of respect for Ross driving the van on that road in darkness. My nephews didn't enjoy the ride much, as they both started to feel queasy from the twists and turns. We moved them up to the middle of the van where, fortunately, they slept through the worst of it.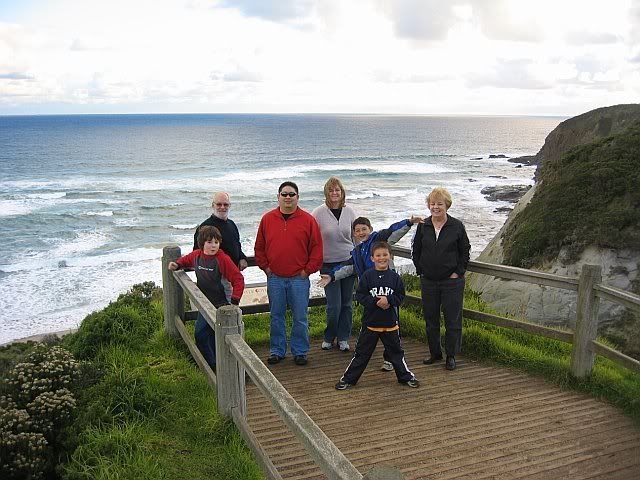 I had said our itinerary was ambitious, and it was -- we had to call ahead and postpone our farewell dinner by an hour, and then we were still a half-hour late. Thank heavens Dave was there to represent the American family during that time!
Food was already on the table when we arrived at the restaurant. Waiting for us were Peter and Lynn, Emma and Greg, Stuart and Tasha, Paul and Sara, David and Sue, Natalie and Margaret. There were more than 20 of us total. Dinner was over far too quickly and we were saying goodbye to everyone. I think each and every person was extended a personal invitation to visit us in the States, and I sincerely hope they can come someday.
Then, we were back to Margaret's house, where we had to pack our suitcases and get ready to head on to Ayer's Rock first thing in the morning.