Today my nephews got a reprieve from the adults, as they got to spend the day with Gill and Ben on Ross' farm doing boy things and being kids.
Meanwhile the adults spent the day doing adult things -- like tasting wine.
Last time I was in Australia, the wine industry wasn't as developed as it is now and I don't remember touring wineries as being an excursion option. Even if it was, I didn't appreciate wine then like I do now. This time, it was a must-do for all the adults in our group.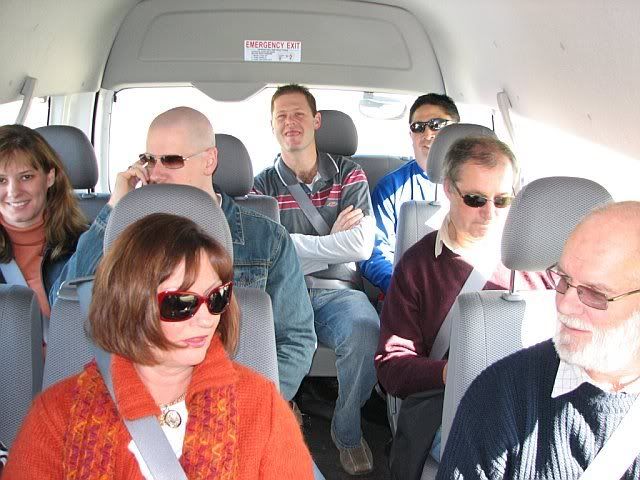 We had a full crew heading out to the Yarra Valley. Margaret was designated driver, and we were joined by Paul, Keith, David, Sue, Ross and Auntie Edie on the bus.
First stop,
Yering Station
for lunch (and many bottles of wine, of course). We didn't do an official "tasting" here, but we had a "gorgeous" meal with at least four different varieties of wine. We probably spent too long lingering over lunch and enjoying the fabulous views, but can I really complain about that?
Next stop, was
TarraWarra
, where we all did the tasting of their full spectrum of wines – and enjoyed the fabulous views. Funny thing was, the server was also one of Ross' former students.
Final stop,
Domaine Chandon at Green Point
, where we ordered flights of the sparkling wines so we could taste the different varieties, and relaxed in the tasting room where we (can you guess what I'm going to say?) enjoyed the fabulous views. (These wineries know how to maximize on their locations.)
All three places had "beautiful" wines, but we didn't buy any to bring home. We had far too many airplane flights ahead of us with carry-on liquid restrictions and baggage weight allowances. But, I plan to look up these wines at the "bottle shops" at home. It's fun to be able to read a wine label and actually know the region the wine is from – and say "I've been there."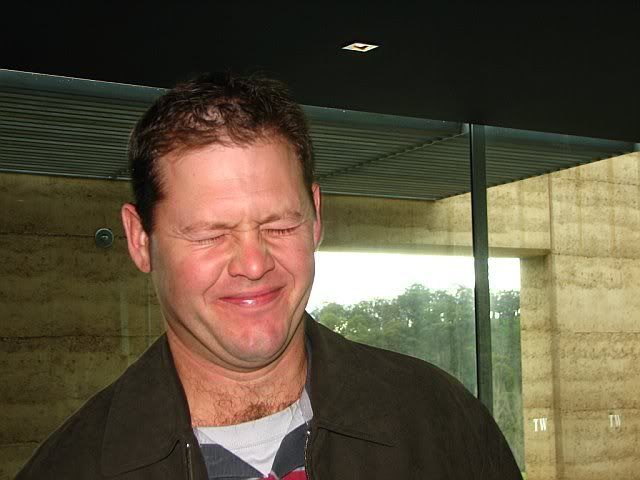 Not everyone in the group was a wine drinker, but one thing I learned living in California is that the best way to try wine is at tastings like these where you get to sample many varieties. I'm not sure Paul is converted, but he made a great effort.
Tea at Auntie Edie's house
"Tea" tonight was at Auntie Edie's house. "Tea" we quickly learned this trip, does not mean that the beverage "tea" will be served; instead, the Australians tend to use it to describe the evening meal -- what I would call "dinner". (Yet, even though this was a dinner, Auntie Edie served some of the yummy tea-cakes and tea-biscuits she'd been tempting us with all week. Speaking of which, I need to track down the recipes for some of those.)
I'd only seen the outside of Auntie Edie's home at the retirement village, so I was surprised at how spacious the place was inside. Many of the treasures I remember from her old house were there, including the weird-yet-fascinating piece of "hair art" made from the hair of one of my great-great-grandmothers. Those wacky Victorians. It's one of those family relics that kind of makes you go "yuck", but yet it's been saved so long and meant so much to someone at one time, how can you get rid of it? With that said, I may someday receive a package from Australia with the "hair art" inside, because I'm not sure many other people in the family appreciate it the way I do...