Nearly 30 hours in transit. Give or take.
The morning started out sleep-deprived. I was up most of the night packing and trying to finish a project for work. I successfully got everything packed (although my suitcase could have used at least another round of culling), but the project didn't get finished.
Then we spent far too long with Felicia going over dog/house sitting issues. Loki and Thor adore her, and she's watched them several times before without problem, but the fretting was for our benefit. With Thor's history, and especially after
his stunt
at the vet's office in May, only a total lockdown would allow us to relax on this trip.
Finally, it was noon. We said our goodbyes to the dogs and Felicia, then we were off.
Or so we thought.
The taxi wouldn't start. A mechanical delay in our driveway -- run back in the house, get the dogs excited, grab my keys, pull out my truck, jump the taxi, pull the truck back in, run the keys back in the house, get the dogs all excited again, say goodbye again, and pray that this wasn't an omen of bad things to come on this trip.
Now we were really off.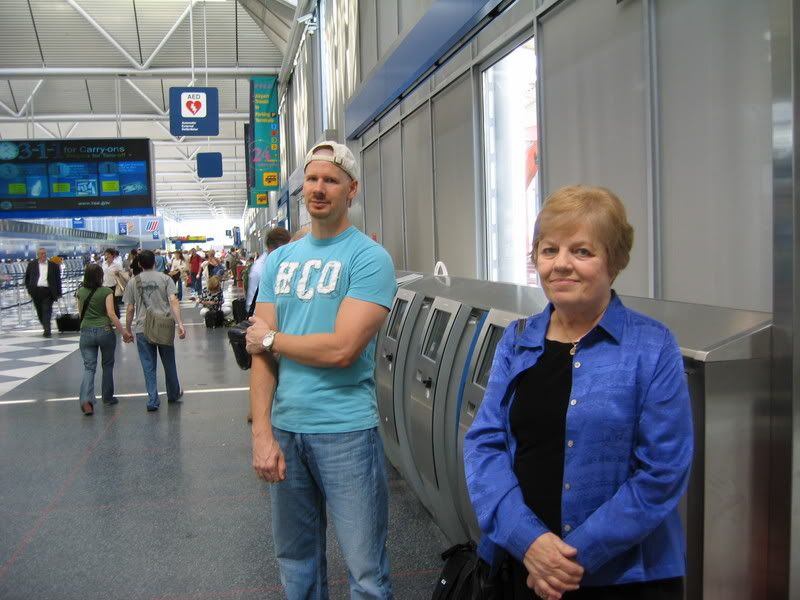 All seven of us met up at the airport. Mom, Jeff (my brother-in-law) and my nephews came together in a taxi, while my sister came in via the El from her half-day of work downtown. (Heather was going on even less sleep.)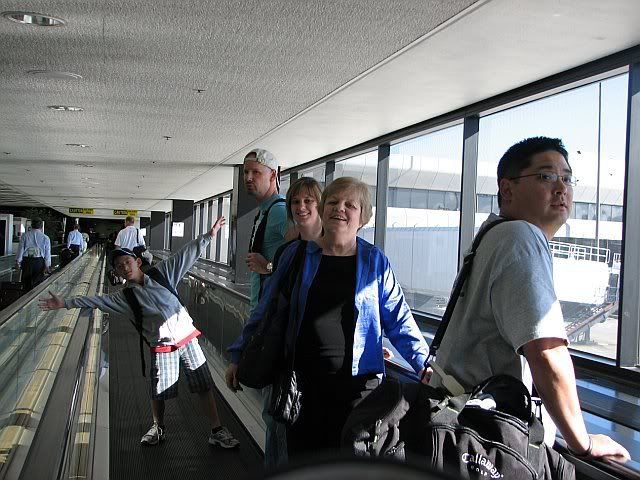 Dave and I were in First Class to San Francisco. I'd been hoarding Mileage Plus miles for years to be able to afford Business Class on this trip, and since this leg didn't have a three-class airplane, we got the First Class treatment. Although, I didn't get to fully enjoy it, since I was still trying to finish my project for much of the flight. But hey, it was something to do.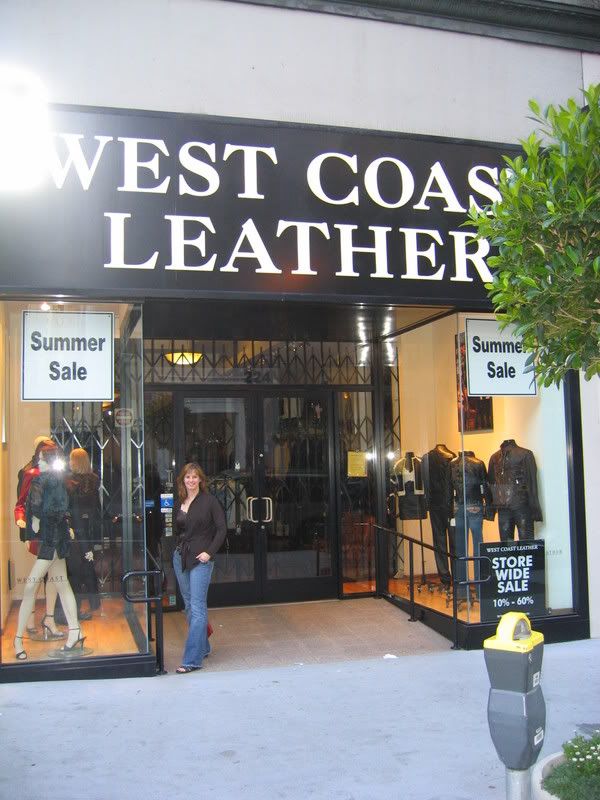 Mom, Heather, Jeff and the boys decided to hang out at the SFO airport during our five-hour layover, but not me and Dave. We were in
San Francisco
. So, we hopped on BART at the airport and did a quick dinner and tour of Union Square and Chinatown. We tried to pop in on Skip at West Coast Leather (I'd done some freelance work for him while we lived in San Francisco and later), but the store was closed.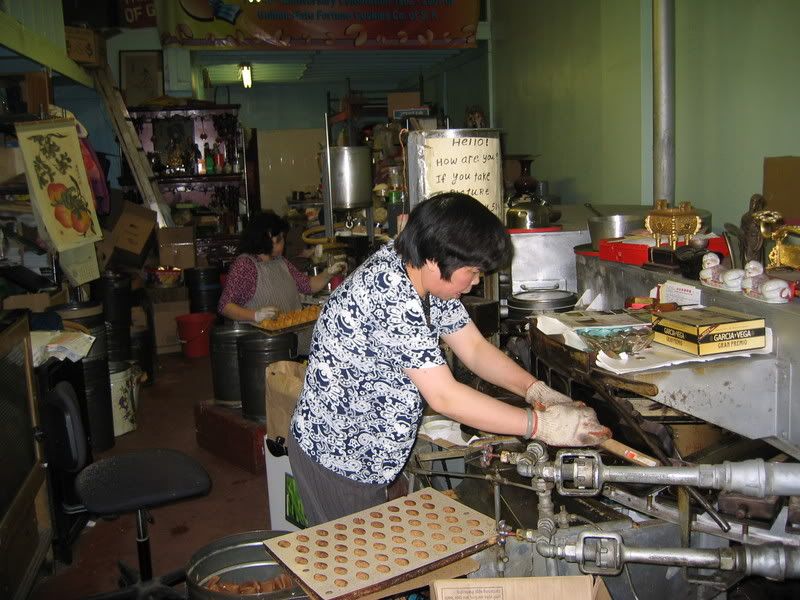 At least the Fortune Cookie Factory was open. Tucked away in a little alley in Chinatown, it's always a favorite stop of mine.
Silly us, we'd forgotten how cool San Francisco weather is in July, and spent much of the time shivering. I should have remembered, since the July day in 2001 when I found myself turning on our house's
heating system
is scarred on my brain. (Mark Twain is credited with saying that the coldest winter he ever spent was a summer in San Francisco.)
Felicia emailed while we were in San Francisco to let us know the dogs are doing well. I'll post that email, since Felicia is so good about reassuring us that Thor won't do anything stupid.
We met back up with the family in the International terminal with plenty of time to spare for our 11 p.m. flight.
But then came the truly difficult part of the journey -- Mom couldn't get on the flight.
As the widow of a retired United employee, Mom was flying space-available on this trip. Well, there was space available on the plane, but no standbys were given seats. Something to do with load factors and wind and fuel. (Not getting a seat is a gamble all employees are prepared for and used to -- the price for extremely inexpensive travel. If you want to be guaranteed a seat, you buy a ticket like everyone else -- or hoard miles.)
So, we boarded and Mom found a hotel room for the night. She'd try again in 24 hours on the next SFO-Sydney flight...
I worked on my project again on the flight to Sydney, finally calling it "done enough" at about the point we flew over the International Date Line. It didn't help me at all that the laptop somehow mysteriously forgot how to cut and paste, and I had no room to spread out all the documents I needed to trace to. Dave at some point suggested that I'd worked on it so long, I shouldn't have to call Tuesday a vacation day at all. If only. But again, it gave me something to do.
The best I can determine, I got maybe four hours sleep on the plane. This is where the Business Class seats really paid off as the seats reclined into a nearly flat bed. (That's in addition to having our own personal television sets and the food actually having flavor and texture.)
The sun was rising as we finally landed in Sydney. Our first hint of daylight in the roughly 14 hour flight.
It had been maybe 26 hours since we pulled out of the driveway. We still had about four to go in order to get to Melbourne, including the layover time.
We'd left Chicago and San Francisco on July 3 and arrived in Sydney on July 5. The Fourth of July was spent in pitch blackness somewhere over the Pacific, eaten up by the International Date Line.