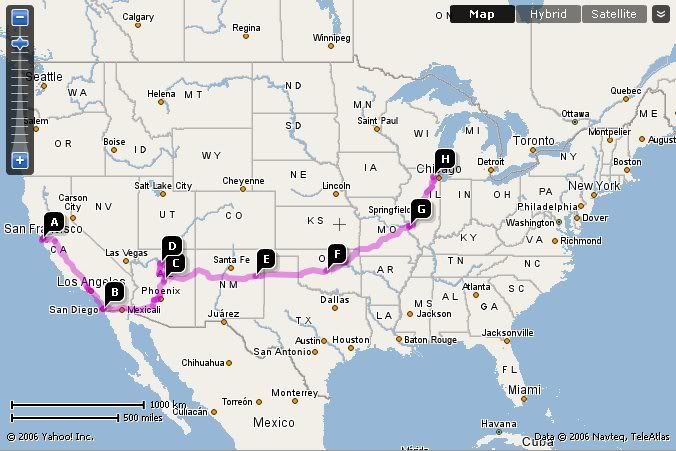 It was five years ago this month when Dave and I moved back to Chicago after about a year-and-a-half in San Francisco. We moved out there during the height of the dot.com boom, just in time to watch the bubble burst. As we watched numerous friends lose jobs and struggle to get new ones, we made a judicious career retreat out of San Francisco.
We loved the city, though, and to me, my time there will always be a benchmark in my life.
Since I didn't have a full-time job then, I was in charge of overseeing packing and the movers, then driving the car halfway across the country to our new home in the Chicago suburbs. My girlfriend Marriott lived in San Diego and had the time available to travel with me. So I took a detour through San Diego to pick up Marriott, then we started our trek to Chicago, mostly following the path of the old Route 66.
To both of us, the trip was a fantastic experience. Every day along the route, we emailed a travel journal to our friends and family, and posted photos online for them to view. At many stops along the way, I mailed postcards to my dog, Red, who was waiting for me at my parents' house. (Yes, I knew she couldn't read them.)
I've kept those emails and postcard, and have posted them to my blog in the
2002 archives
. The journey starts here:
Travelog Prologue: Haley's Solo.