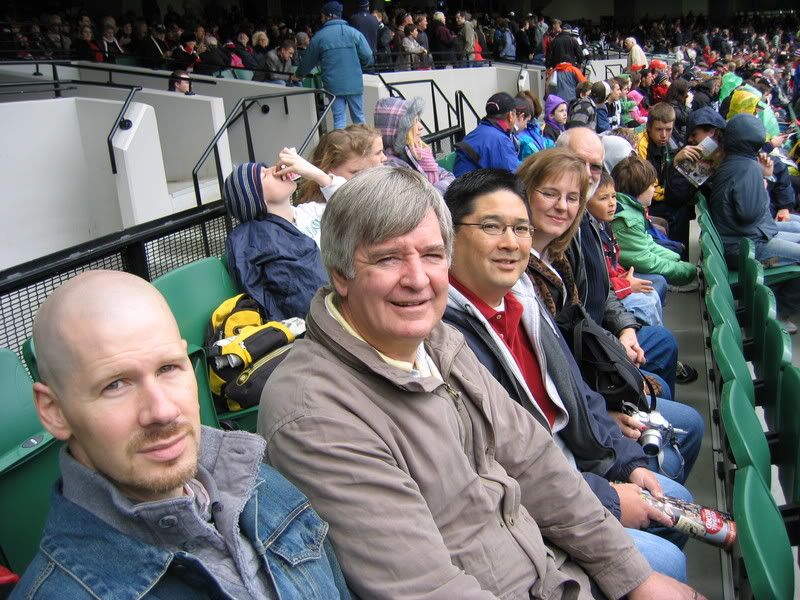 I'm not usually up anytime near sunrise at home, but I can't complain about seeing another one here. Getting up so early gave us plenty of time to make breakfast for everyone (a true fullhouse with one bathroom and Margaret, Rosemary, Auntie Edie, Mom, and me and Dave fitting into three bedrooms).
We had plenty of time for Dave to go workout and me to take a nice long walk. Margaret gave me directions to a park, but I missed a turn and instead ended up walking to the mall we'd visited yesterday. By the time I got back, a good hour or so had passed and I'd logged more than a few kilometers. Rosemary said Margaret was really worried about me getting lost, especially when she realized that the park she'd directed me to was a lot further away than she'd remembered. Well, her fears were only partially realized -- I didn't make it to the park, but I didn't get lost. I knew how to get home the whole time.
We were able to fit in a call to "Marriott" back home. Our dog-sitting arrangement was going through a transition for the weekend from Felicia to Marriott, and I was a little nervous about Thor. But it turns out I didn't need to be, as Marriott reported that he was excited to see her.
The plan for our day was that Marg, Mom and Ro would stay home and start the family reunion portion of this trip with a ladies' lunch (I think eight ladies total?). Heather and I didn't have to be "ladies" today, though. Instead, we were going with the boys to a footy match at the MCG.
Ross and Ben drove me and Dave to David's house, and from there we all took the train to the stadium. (Ben is my nephews' age. He's a cousin of Ross's wife, Gill, but Ross has more of a fatherly relationship with him.)
Aussie Rules Football at the MCG


Slideshow photos by Heather

We were told right off that we couldn't "root" for any teams, as "rooting" is apparently a rude word in Australian vernacular. Instead, as women, Heather and I could "cheer" for a team, but the preferred term was "barrack". And who should be barrack for, we asked? Well, not the
Collingwood Magpies
we were told (I guess you either love the Magpies or hate them), so that left the
St. Kilda Saints
.
As we exited the train and walked toward the
MCG
, Dave and I were both amused to hear little pockets of music coming from Saints fans. Their theme song?
When the Saints Go Marching In
.
What was funny to us is that the song makes us think of the city of New Orleans and the New Orleans Saints NFL team, not an Australian football team.
But, apparently the fans had long ago
adapted the song for St. Kilda
, even altering the lyrics.
Oh when the Saints, go marching in,
Oh when the Saints go marching in,
Oh how I want to be with St Kilda,
Oh when the Saints go marching in.
Even though we were barracking for St. Kilda, it turns out the nobody in our party was particularly a St. Kilda fan (David supports the
Melbourne Demons
, Ross the
Geelong Cats
, and Ben the
Essendon Bombers
). But since we'd asked to see an Aussie Rules football game at the MCG, and since four different footy teams call the MCG home, this is what worked out. Collingwood was technically the home team, but since both teams were from the Melbourne area, the crowd was fairly even.
David is a member of the
Melbourne Cricket Club
and arranged for us to sit in the members balcony section, which has a strict dress-code requiring, among other things, that the men wear collared shirts. If we'd been a far smaller party, David could have gotten us passes for the Long Room (dining room), which requires the men to wear jackets. In fact, as we were sitting on the balcony, men would wander outside from the Long Room, and I found it a weird experience to be surrounded by people wearing suit jackets at a football game.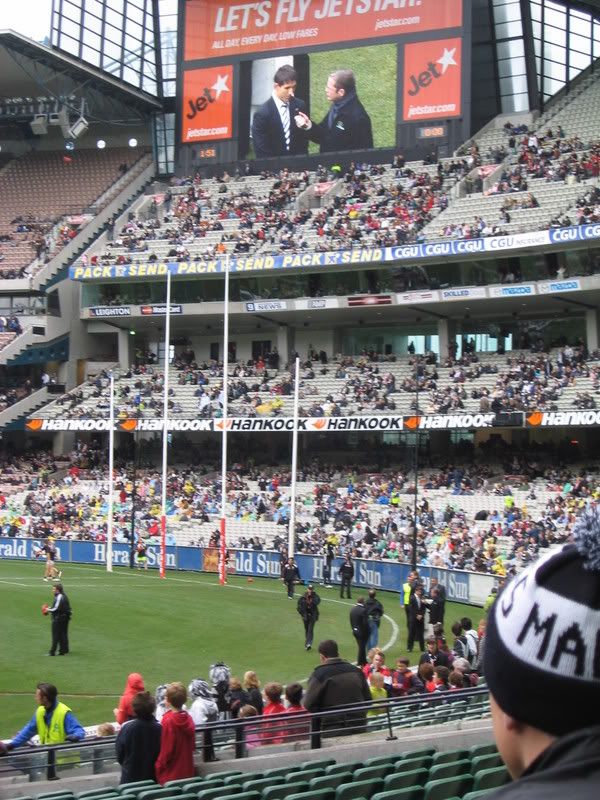 My impression was that being a member of the club was the closest equivalent to our American notion of holding season tickets. But, because the MCG had such huge capacity (100,000), the seating for most footy games is general admission (no assigned seats). So, we were in the members balcony, part of the reserved section for members, but we didn't have assigned seats in the balcony.
The nice thing about the balcony, we were sheltered from the rain but had a nice view of the action. David and Ross did an excellent job explaining the basics of the game (My Dave was actually quit conversant in the game by the end of the trip) so that we were all able to enjoy it, even if our team was losing much of the time.
(By the way, it's pointless debating American rules -- as they call it:
Gridiron
-- vs. Australian rules football. They're two different games requiring different skill sets, and both are fun to watch. Both games also just happen to call themselves football and have similar shaped balls. Both are probably descended from the same sport.)
Late in the game, David took us on an informal tour of the MCG, including a stop to see the MCC's cricket record board. Color us impressed. Why? Because David used to play cricket here and had his name posted on one of the record boards.
While we were in the MCG's cricket museum, we heard the crowd getting excited, so we ran back to our seats. The game was tied up and the game was intense. But then Collingwood pulled ahead and St. Kilda ended up losing.
Ben and my nephews bought Australian footy balls in the stadium shop, and then we took the train home.
Cousins Night
For the evening, all the cousins were getting together for Cousins Night. That meant that the first cousins (my Dad's generation) would be having dinner at David's house, and the second cousins would be dining out.
Now, being the younger generation, you'd think the second cousins would be the party animals. Well, not true. We were the jet-lagged and young-parents group. We had nice conversations over dinner, and then tried to hang out in the bar afterward, but got droopy eyed. The only thing keeping a few people awake was the footy game on television and the bizzare-to-us sight of all the young and hip Australian kids in the club, decked out like it was the '80s to an extent that was startling. Is this the direction of winter fashions to come?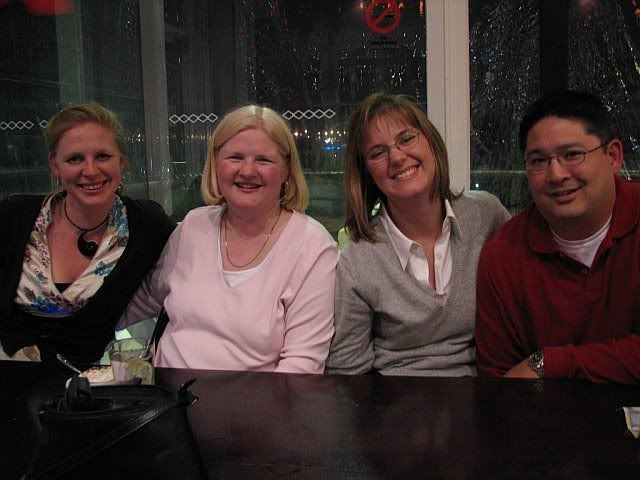 Truth be told, we had an enjoyable night. Emma (who we'd gotten to see the day before) was there, as was my other cousin Emma (this one Emma B.) whom I've actually gotten to spend very little time with previously. Paul was there with his wife, Sara, and Natalie stayed for a little while before having to go to work.
Too many of the second cousins were not represented, as Stuart was still in the hospital with his broken hand/arm, Andrew was touring Europe (probably running with the bulls in Pampola as we were gathering), Natasha was in Adelaide, Jodie in Sydney, Lisa in Perth, Sara near Brisbane, Justin in Hong Kong, Scott in the United States, and the rest working or otherwise busy. We're a spread-out generation of second cousins.
It was the first cousins who were the partiers, with everyone of that generation represented. While Dave and I were home sound asleep in bed, they were drinking and carrying on into the night.