Dave and I were both up before dawn. The joys of jetlag.
We got cleaned up and watched everyone else trickle awake, and eventually all settled down for a nice breakfast together. When I think back to all my previous trips to Australia, the breakfasts are a memory I hold on to fondly. Not the food (it was usually a bowl of cereal), but the fun of sitting in Auntie Edie's kitchen while Uncle Ray worked on a puzzle. The camaraderie. I was happy that I'd probably have such nice breakfast memories at Margaret's house, too.
Dave and I were eventually able to get onto Margaret's computer and check email. Happily, there was another message from Felicia saying all was well with the dogs. Good.
Dave entertained himself watching Scrubs on his iPod (we'd transferred a few season's worth of episodes to the iPod before leaving) and Margaret dragged out extra fleeces, raincoats and umbrellas for us to use at
Healesville Sanctuary
.
We were meeting at Margaret's house, and I was excited to see some more cousins that I hadn't seen in ages. Ross drove in from the country, and his daughter Emma arrived with her husband, Greg, and baby, Samantha. I have distinct memories of Ross and his then-wife Sandra visiting Chicago in the early '70s, and Emma spent a year in the U.S. as an exchange student in the late '80s including several weeks at my parents' house. (I'll try not to catalog every interaction between the U.S. and Australian branches of the family over the years -- there's been a lot -- but there's something about having interacted with a person on both continents that makes the relationship seem stronger.)
Dave and I piled into the car with Ross, Rosemary and Auntie Edie, while David drove Heather, Jeff and the boys, and Emma and Greg followed in their car. Margaret was staying behind to pick my Mom up at the airport.
Healesville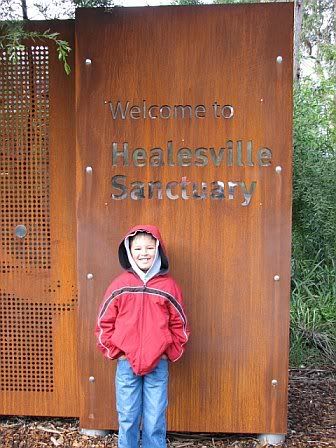 Every trip I've ever made to Australia has included a visit to
Healesville Sanctuary
. I remembered it as being a great opportunity to see all the unique Australian wildlife you'd expect to see on a trip here -- kangaroos, wallabys, koalas, platypuses, wombats, etc. In 1987, my cousin Donna and I were both lucky enough to have a
lyrebird
do a courtship display on our arm while demonstrating it's huge repertoire of sounds. If you can hear a recording of a lyrebird, it's truly amazing. They mimic everything, from other birds to car alarms and gunfire.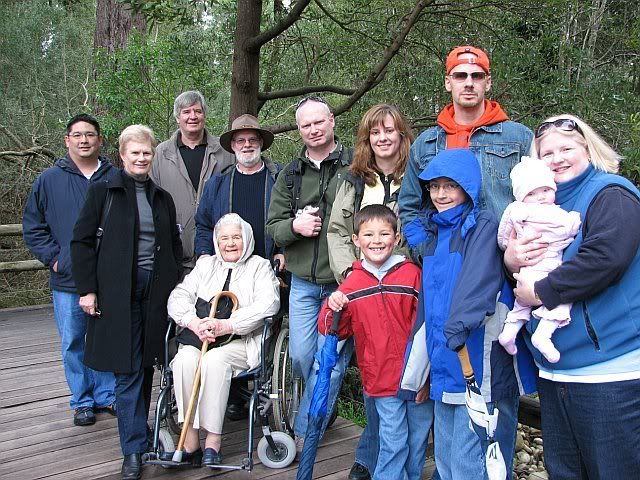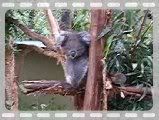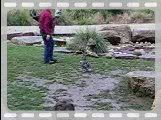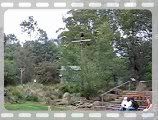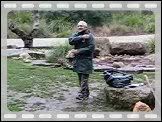 Looking back, I guess it was a bad sign this time that the first thing we did after paying our admission to Healesville was to buy a round of hot drinks for everyone. It was cold. And wet. I'd been to Australia twice before in their winter (remember, the seasons are reversed from the U.S. because it's the southern hemisphere), but I didn't remember it being this cold. (My photos from 1987 show everyone wearing sweaters under a jeans jacket.)
Maybe it was because of the cold and wet, or possibly it was because of more conscientious animal management techniques than they used in the '80s, which is a good thing overall, but the animals didn't seem as accessible as I remembered from previous trips. I remember being in a paddock full of kangaroos and wallabys, able to reach out and touch them, but today they were all staying behind their protective fences. Overall, the visit didn't live up to my memories, although we did quite enjoy the birds of prey show. I can't remember my bird species, but they showed us several birds, having them swoop over the crowd, and they had one bird demonstrate how it will, by instinct, use a rock to break open an emu egg. The demonstration on how to throw a boomerang was entertaining also. (I've uploaded video links at right. It's not the greatest video footage -- blame the amateur cameraman [me] and the low-resolution camera.)
We didn't linger overlong at Healesville. By 2 p.m. we were loaded back up in the car and looking for a place to warm up and have lunch. We ended up back in the town of Healesville at the Healesville Hotel.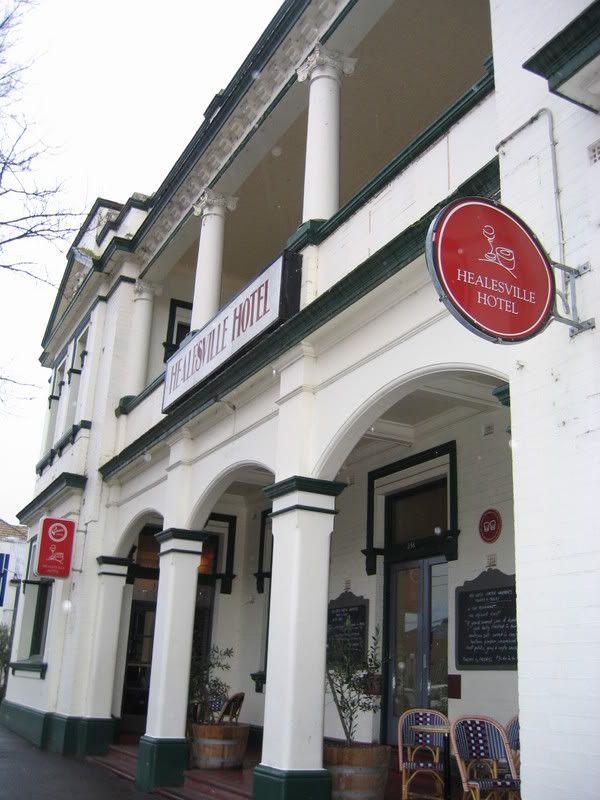 The
Healesville Hotel
was a perfect choice. We got a table in a little room with its own fireplace adjacent to the bar. The food was excellent, and they had a great variety of wines. (It was just the kind of place I could see taking my friends for a girls getaway.) (
Note:
We later ran into
an article about wine pubs that mentioned the Healesville Hotel
on page 61 of the Quantas Airlines in-flight magazine. If that link doesn't work,
try the dining article in this zip file
.)
Little Sammie charmed us all at lunch. Even though Emma and Greg insisted that she was being cranky, nobody believed them.
Family Dinner
Back at Marg's house, we were thrilled to see that Mom and arrived safely and was looking bright-eyed and bushy-tailed. The night of sleep in San Francisco and the First-Class sleeper seat on the flight to Sydney really did her well. She wasn't nearly the glassy-eyed zombie we'd been the day before.
Marg drove Dave and me to the nearby mall so that we could pick up some more groceries (Dave and I were planning to make breakfast for everyone the next morning) and buy some well-needed gloves and long underwear for our football game tomorrow. Plus we also stopped at the local gym so that Dave could figure out how he'd fit in some workouts during this trip. Somehow, he finagled himself into a free 1-week trial membership even though they knew he'd only be in town for a week and wouldn't be joining permanently.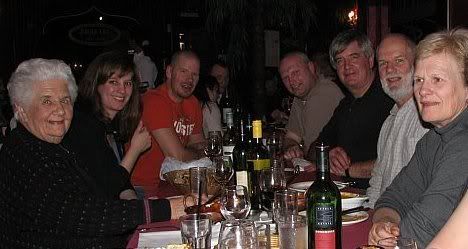 Dinner was a big affair -- at least 14 of us -- at a local Indian restaurant. Dave and I were thrilled to have Indian food, but it was a little adventuresome for some of the rest. My nephews fell sound asleep at the dinner table, so Marg drove them and Jeff back to her house.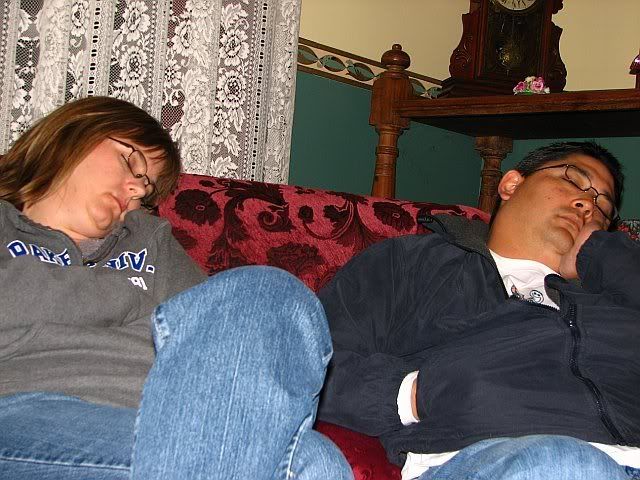 We met back up with Paul at Marg's house to watch some Friday Night Football (Australian rules football, that is), but the jetlag was kicking in for everyone by the second half. The party had adjourned and Dave and I were in bed by the fourth quarter.