I never would have guessed that because we claimed some food items when going through customs, and had to go into a separate line to have our bags checked, we'd actually clear customs before Heather, Jeff and the boys. But we did. The benefits of honesty -- and perhaps the fact that our
Joseph Schmidt chocolates
and bag of fortune cookies picked up in San Francisco were not really the types of food they were concerned about.
Anyway, we came through first.
Have you ever had that moment of doubt, when you haven't seen somebody in years and years and years, that you wouldn't be able to recognize them? Well, I did. But it was instantly gone when I saw Auntie Edie and my cousin Margaret in the crowd of faces. And then there was my cousin David and his daughter Natalie and all the years melted away. (Sure, everyone was older -- Natalie was preschool age when last I saw her and now she was an actual grownup woman.)
Note:

We're dealing with four generations here. For the sake of convenience, most everyone is a cousin. Even in-laws. I won't go into the specifics of first-cousins, second-cousins, third-cousins, first-cousins once-removed, etc., unless absolutely necessary. I could bore you to tears with the relationships. Suffice it to say, my grandfather had four brothers and sisters in Australia. Edie is my grandfather's sister. Everyone else is descended from one of the siblings and therefore cousins.
While Dave and I arranged to rent a cellular phone through Vodaphone, Margaret ran off to meet my cousin Rosemary's flight from Queensland, and everyone else went home to David's house.
(

Note:

"Dave" is my husband and "David" is my cousin.)


With our new phone in hand, we called Felicia (one of our dog-sitters) before it got too late in Chicago to make sure she had a phone number to get ahold of us just in case. (I know I sound overly concerned about the dogs, but knowing how socially retarded Thor is, and having had him run away, get hit by a car and almost

die

while we were out of town before, I need all these safeguards so I can

relax

.)
Once Rosemary was collected, we met up again and tried to find Margaret's car. "Tried" being the operative word. Margaret knew exactly where she'd parked it, but it wasn't there. It took a few minutes to realize we were on the wrong level... the car was actually right where it was supposed to be. LOL
Margaret had the best excuse for being distracted, though. Not only did she have our arrival to worry about, but she was also leaving on a five-week trip to Peru on the same day we planned to leave Melbourne, and, more importantly, her son Stuart had been in the hospital all week, having been randomly beaten up by some thugs on the street while out the previous weekend. He'd had multiple surgeries on his hand/arm (apparently a defensive injury) but the feeling still hadn't returned. The doctors were hoping it was simply a matter of the swelling compressing the nerve.
We arrived at David's house to be warmly greeted by little Billy, the dog. Then it was a pizza lunch and an Internet check. I was finally able to email my work project and officially start my vacation!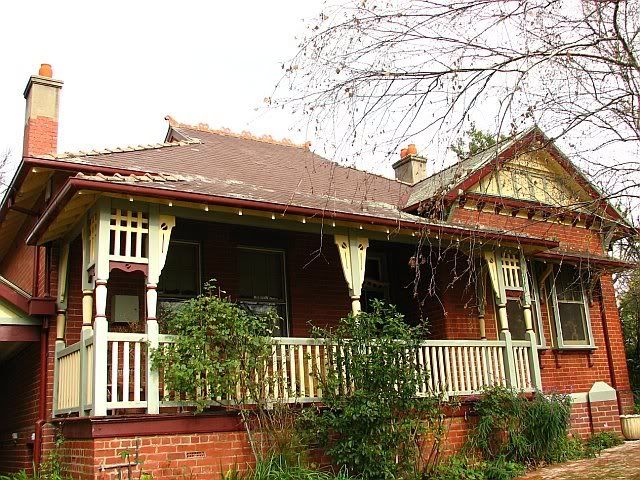 I'd been to David's house when I'd last visited in 1991, but didn't remember much about it except that it was old, possibly
Edwardian
era? David and Sue have since put on an addition to update the kitchen and add a large family room, but the historic details that I love were still there. The old fixtures, the high ceilings and detailed woodwork. I wish I'd taken photos. (If Heather did, I'll add some later.)
After a few hours, we left Heather, Jeff and the boys at David's house then moved on to Margaret's house, where we'd be staying.
I remembered Margaret's former house fondly. It overlooked a wooded area and creek, and had a treehouse quality to it. Lots and lots of character. I was curious about her new house. When I'd mapped it online, the neighborhood had a subdivided look that made it seem very modern and planned.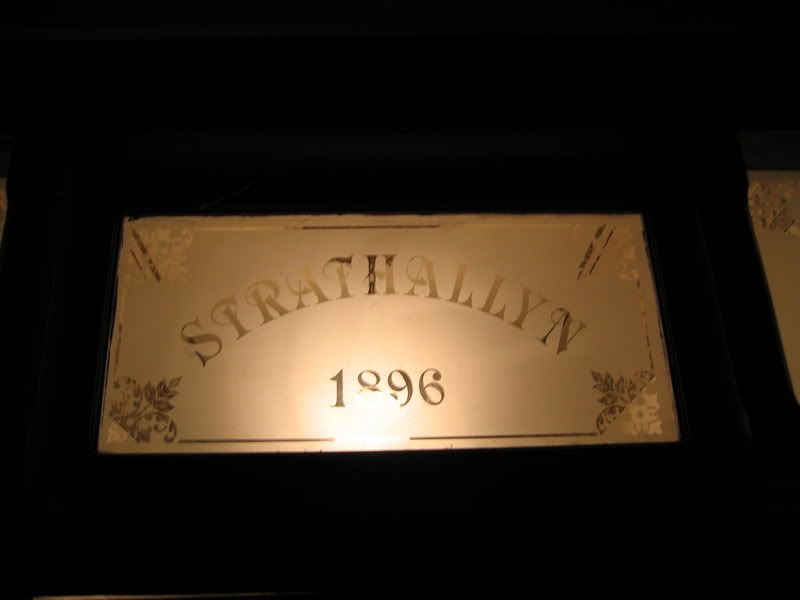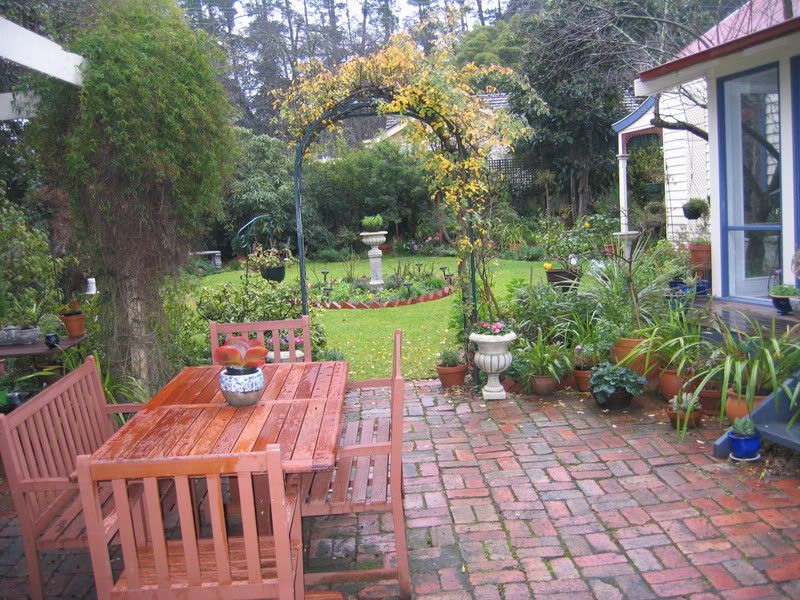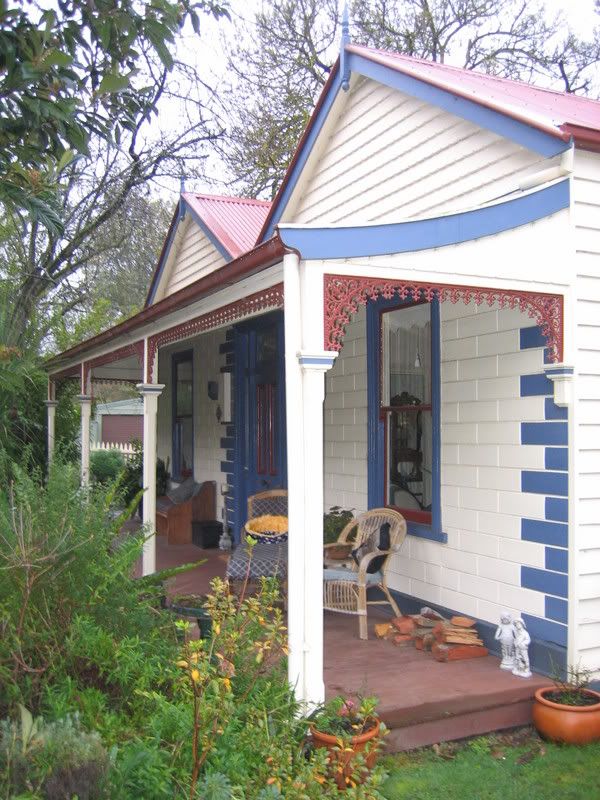 But I should have known better than to expect anything modern for Margaret. Turns out she'd purchased a house with "heritage" designation. It was the original house in the area, built around 1896 (according the etched glass over the front door) and named "Strathallyn", which was also the name of the street the house was located on. Turns out, the street was named for the house. Margaret described the house as an old gumnut house, but I'm not sure exactly what that means. The house also had all those high ceilings, fancy trimwork and old fixtures that I love, but it also, conveniently, had a nice and new bathroom.
The rest of the afternoon was sort of lazy, catching up, looking through photo albums of previous trips, and browsing an incredible collection of letters that my great-grandfather wrote during World War I.
(My great-grandfather worked for the YMCA in New Zealand and traveled to London to work with soldiers through the YMCA. The letters detailed his several-week journey across the Pacific, North America -- including Chicago -- and the Atlantic. I didn't get to read any letters after his arrival in London, but I do know that he was awarded the MBE [
Member of the Order of the British Empire
] from the king for his work during the war. I really hope Margaret gets those letters copied so they can be shared with the entire family.)
At some point, we got a quick message for Mom saying she was on the flight from San Francisco -- in First Class, no less. She'd be joining us tomorrow. Relief.
In the evening, Margaret's son Paul stopped by to say hello while on his way to
footy
practice. But, the jet lag and travel fatigue were kicking in, and I'm not sure I was even stringing together coherent sentences by that point. After a homemade meal of pumpkin soup (yummy) and curry chicken (also yummy), Dave and I fell into sound sleeps by 9 p.m.