We woke up early to say goodbye to Margaret, who was leaving on her trip to Peru. An hour later, we were headed out the door to the airport ourselves. The sun was just rising.
Morning traffic delayed us, and we had our fingers crossed that we'd get to our flight in time. We did. We said goodbye to Auntie Edie, Ross and Gill outside of security, then caught our Quantas flight to Ayer's Rock.
Dave and I were in coach this time, with some squirmy little kids behind us kicking our seats. It made me really appreciate (for the umpteenth time) what good travelers my nephews are, as they were content to listen to their music and play their video games.
We had a spectacular view of
Uluru (Ayer's Rock)
and Kata
Tjuta (The Olgas)
on our approach to the little
airport of Ayer's Rock
. The airport was so little, we deplaned using an outside staircase (I don't get to do that very often anymore) and there appeared to be only a handful of gates. Perfectly understandable, when you consider that Ayer's Rock is pretty much out in the middle of nowhere (closest city is Alice Springs) with the resort and related tourism the major industry.
A free shuttle took us to the
Ayer's Rock resort
area, which we learned is a collection of about six different hotels/motels/campgrounds apparently managed collectively and clustered around a "town center" shopping area.
We checked into the hotel, snarfed down a quick lunch in the bar, and signed up for our excursions. It turns out that we should have pre-registered for the excursions we really wanted because many were sold out -- such as the sunset camel ride. Instead, Dave and I got on a tour to The Olgas, while Mom, Heather, Jeff and the kids took a shuttle over to Ayer's Rock.
The Olgas (Kata Tjuta)
Dave and I climbed into yet another 12-person passenger van. This time, for a less-than-an-hour ride to see and hike in The Olgas. At first, I wasn't that enthused about getting in a van and driving a distance -- again -- but I really felt the need to get out and do something active, and the booking agent assured me the drive wasn't that long.
And, the booking agent was right: The drive didn't seem that long. Especially because we stopped along the way to view Kata Tjuta and Uluru from a distance.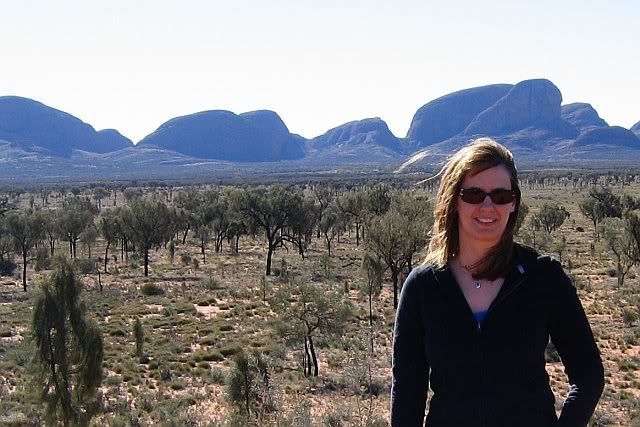 We stopped in the Walpa Gorge section of Kata Tjuta to hike. Our hike was probably only a mile in and a mile out, if that, but it was just enough to feel like I'd done something. The views were amazing, but the sun was a little too harsh and my photos didn't turn out that spectacular. I brought my winter coat, but didn't end up needing it on the hike.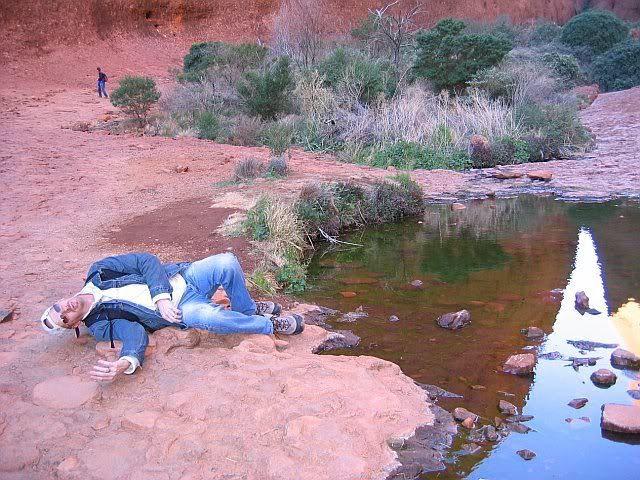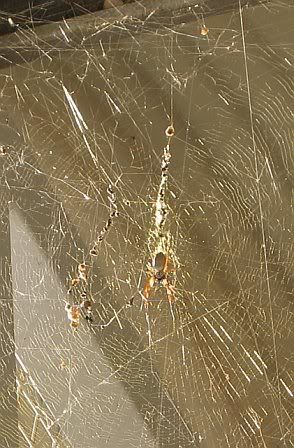 After about an hour, after all 12 of us had trickled in from our hikes, we loaded up the van again and headed for a toilet break. I only mention this stop because Dave encountered a massive spider in the men's room, which, reassuringly, was our first spider encounter on the trip. (After watching Discovery channel for so many years, we were very aware of all the venomous things in Australia -- and were quite delighted not to be seeing many of them this trip!)
Sunset over Ayer's Rock (Uluru)
The last stop on our 12-person bus tour was the sunset viewing area at Uluru. Funny thing was, we ran into my Mom, Heather, Jeff and the boys here and were able to watch the sun set with them.
I hate to admit this, but while the sunset was amazingly beautiful, we were all freezing and a little bored. Dave kept poking me and saying "Take more pictures. That's why we're here. Why aren't you taking pictures now?" Well, it was just a (huge) rock changing (brilliant) color, but otherwise not doing anything, so I humored him and kept taking photos. Now I have a big collection of the same rock in slightly different lighting and framing. I won't bore you with all of them. :-)
The Dinner Fiasco
Our attempt to eat dinner tonight will from here on out be known as "The Dinner Fiasco."
We were warned that we'd need to make a booking for dinner (all the excursions end at about the same time after sunset, so everyone would be trying to eat at the same time). We had done some research and chosen a restaurant on the other side of the resort that was very family friendly and allowed us to cook our own food. They didn't take bookings.
So, we walked across the resort and found the place. Turns out it was near the campground, sheltered under a tent with heat lamps, but technically outside. We hadn't done enough research and it was too cold for many in our group, so we hunted for Plan B.
We found a buffet next door that appeared to be half empty. But, no, they couldn't accommodate a party of 7 because they had bookings. "Could you squeeze us in? We'll eat really fast," we asked. We were given an emphatic no. But, after a moment, they reconsidered and said they could squeeze in 5 of us.
It was a no-go. Time to find a Plan C. We took the shuttle bus back to the other side of the resort. The takeout cafe was closed, the grocery store had items that needed cooking facilities, and the Italian restaurant had a line out the door. We were cold, people were starving, the family was grumpy, and the wait for a table for 7 would be long.
Somehow it turned out that Dave and I got a small table for two at the Italian restaurant, while the rest of the family ordered takeout from the restaurant and took it back to their rooms. We weren't going to be happy, but at least we'd be fed.
Warmed up and with food in our bellies, Dave and I went back to our hotel lobby for a glass of wine and to surf the Internet using the hotel's wireless service. The wine was good, but our laptop wouldn't connect. Something was broken. Dave spent at least an hour trying to make it work.
Heather showed up with her laptop and was able to connect, so we were able get a few of the big things on our to-do list accomplished, such as arrange a pickup from the airport tomorrow in Cairns and a rental van for pickup on Sunday -- but just barely. Bleary-eyed, we stumbled back to the room.
I think all of us had been in go-go-go vacation mode for too long and we were due for a crash. This was it. All in all, it wasn't a good night and the best option was to go to bed.