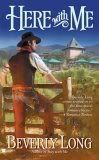 Yeah! Someone is publishing time-travels set in Western locations. Coincidentally, *I* have a
time-travel set in a Western location
that I'm trying to sell.
So, I'm off to the bookstore tonight to buy a copy of
Here With Me (Berkley Sensation)
. It's not just market research, it's supporting a sub-genre that I have a vested interest in. Plus, the author,
Beverly Long
, is apparently a Chicago-area author and member of
Chicago North RWA
-- although I don't think I've met her -- and it's always nice to support local authors.
Anyone read this book? What did you think?