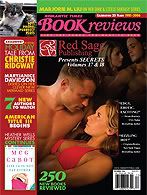 Why, the kitty is none other than romance author Cathie Linz's Whiskers. He's there to promote an article in the December 2006 issue of
Romantic Times
magazine about authors and their pets titled "Pet Muses: A look at writers who find inspiration from their furry friends."
Since the article is not available online, I guess I need to check out the hard copy. (I wonder if
my muses
will ever make it on the cover of a magazine?)
Coincidentally,
Cathie
, a fellow Windy City writer whom I greatly admire, has a book coming out Nov. 7. While Cathie has published more than 50 books,
Bad Girls Don't
is her second single-title release.
Cathie will be doing a signing of
Bad Girls Don't
and a short presentation at
Anderson's Bookshop
in downtown Naperville, Ill., at 2 p.m. on Saturday, Nov. 18. She says it's the only bookstore signing she'll be doing for this book.