The following entry was recreated from emails dated the week of 6/7/04.
We'd been playing around with the idea of getting a second dog for a while now. But when we pulled the trigger, we didn't realize how quickly things would progress.
We sent in our application to BARC on Tuesday. Wednesday night we emailed to double-check that they received the application.
Amy Kessler emailed us back at 11:45 a.m. Thursday:
I did and I am happy to say that I have an approval this morning...

I am thinking that Mason would probably be the best suited for your home and for what you are looking for. He is the youngest pup that we have, he is about 4-5 month old, very sweet and great with kids and other dogs. He is smart, almost completely house trained and healthy. If this pup interests you, please let me know and we can go from there. If not, we can discuss some of the other options available.
She responded to some of our questions at 4:40 p.m. Here are some of the questions and answers:
Can you tell us any more about Mason? How long has he been with Barc?

***We got Mason in April, he has been with me since the day we got them.
We waited on placing him because of of some sick puppies that we had gotten in, I wanted to make sure the pups that were already here weren't going to get sick or carry anything away from here. All is past and things are fine. I just like to play it safe.

Since he's 4-5 months already, you probably have a pretty good assessment of his personality. Is Mason's personality more rambunctious or couch-potato?

***He is right in the middle, he will play given the chance, but will snuggle up at EVERY opportunity!

Are there any games he likes to play?

***He likes to play with the other dogs and with toys (which were a whole new experience for him when he came!)

Is he much of a barker?

**Nope

Is he much of a cuddler?

***Yup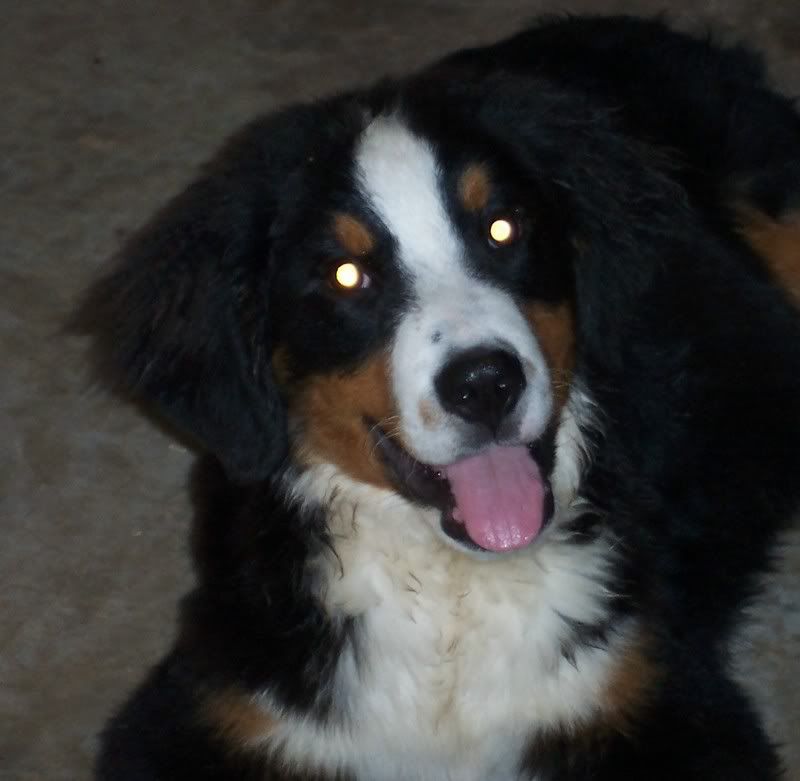 At 9:30 that night, Amy sent photos! She wrote:
Sorry about the red eyes........oh, and the mud! :-)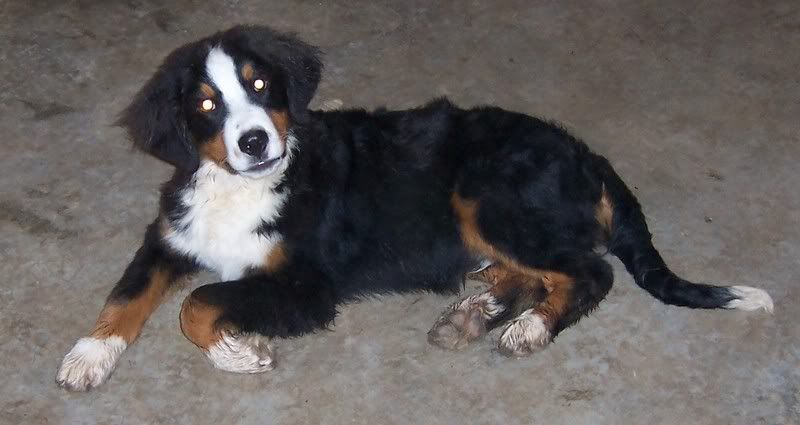 We talked to Amy again on the phone, and at 10 p.m. she emailed the contract.
We promptly decided to rename Mason as Thor.
Friday night, we dropped Loki off at JW's house and drove to Kansas City, where we spent the night (nine-hour drive through thunderstorms).
Saturday morning we picked up Thor and drove back home. He was as cute and easy as could be.
Sunday we emailed Amy to let her know the drive went smoothly:
We arrived home safely last night. Mason/Thor was a doll the whole ride and proved to us that he can hold his bladder for at least 8 hours. Even though we made potty stops at least 4 times, he never went for us.

The introduction with Loki went smoothly, but Loki is not quite as enthustiac as we'd hoped. But already we're seeing improvement. At least she doesn't leave the room the moment he enters anymore.